Urban populations are growing. At the end of last year, almost 8.8 million of Sweden's inhabitants lived in cities. This represents 87 percent of the Swedish population. But how will we manage more traffic, congestion, noise and emissions as cities become denser? These questions will be answered in a panel discussion on urban logistics at the Logistics & Transport Expo, which will be held at the Swedish Exhibition & Congress Centre on 5–7 November.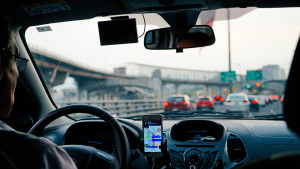 "Many construction projects are going on in cities right now. If we want to preserve a vibrant, pleasant and attractive city environment, we need to completely rethink our approach to logistics," says Maria Oscott, director of Triple F, the Swedish Transport Administration's programme for fossil-free freight. She will act as moderator on this issue at the expo.
The logistics and transportation sector is facing ever growing demands as roads become increasingly congested, and improved coordination is needed between the transport routes for people and goods.
"There is a large amount of heavy and bulky transportation in cities today, which needs to co-exist with people moving around the city, construction sites, events and other temporary activities. At the same time, all logistics and transportation in the city environment must continue running smoothly. How can we learn from flexible solutions that have been used in large construction projects? We will discuss these issues," says Maria.
A wider perspective
City logistics will be examined from a wide perspective during the expo, which gathers together over 6,000 visitors from the Nordic logistics industry.
"I hope visitors will see that city logistics encompasses so much more than just delivering packages to shops. It's also about dealing with large and complex flows, solving temporary situations and ensuring that cities remain attractive for both residents and visitors. Many excellent solutions will be presented which I think visitors will find inspiring," says Maria.
Participants in the panel discussion will include Gunilla Grahn-Hinnfors from the West Sweden Chamber of Commerce, Tom van Lier from Vrije Universiteit Brussels, Jop Spoelstra from Technolution and Ole Stenberg from FM Bygningsdrift.
"These are all leading experts. It will be especially exciting to listen to Peter Binham, who was involved in keeping logistics running smoothly through the whole of London during the Olympics. There will be a lot of fascinating and useful information," says Maria.
She stresses that because similar challenges are occurring in many places, various successful projects will be highlighted in the discussion, for instance from Copenhagen and Gothenburg.
"The aim is to show that intensive construction is not only going on in Gothenburg; there are similar challenges everywhere. And of course mentalities vary between different cities, which influences the way in which logistics are perceived in each location."